A sidebar is located on the left side of the log viewer window which contains the names of all log files found in the current directory.
If no log files are present in the sidebar, click "File" and choose "Select log file directory". Browse your computer to locate the directory containing log files and click "Open". The sidebar will be updated based on the contents of the selected directory. If the new directory contains log files, it will be set as the default log file directory when the log viewer is opened in the future.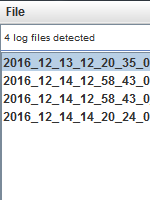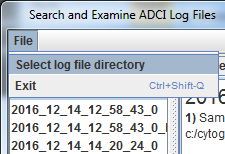 Double-click a log file in the sidebar to view its contents in the viewer tab.